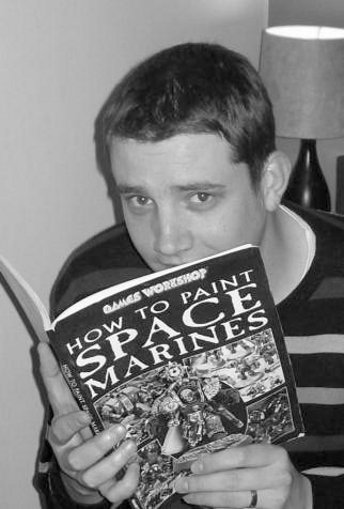 Darren became a fan of the hobby when he was around 11 years old and was taught how to paint by his brother.  Judging by his standard, then his brother has done a fantastic job.  Although Darren is now on the design team, I still thought it worthy of adding him to the Eavy Metal posting.  Some of his latest designs are with the High Elves - the Everqueen in particular.  
Darren's painting for Eavy Metal has included some amazing miniatures, my favorite being the Blood Angels Sanguinor - done in Non Metallic Metal technique.  It is the stuff of legend.  If you own a copy of the masterclass, then you will have his full guide on how to do it.  He also painted the Dark Eldar Lahmian in the studio army.  
Darren, like Joe, believes firmly in planning before you paint and has always focused on keeping his work tidy.  In a recent interview he mentioned practicing on lots of Space Marines as there is no room to be messy with them.
One of Darrens specialities is his freehand work.  His tips for this are:
: Plan what it will look like on a separate piece of paper first.
: Use dot to dot outlining and then join the dots once you have the outline you can complete the design.  Keep it simple at first.
You can view Darren's gallery here
http://razzaminipainting.blogspot.co.uk/